Youth Fellowship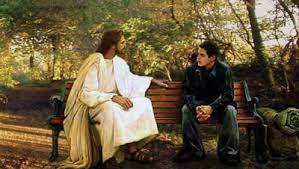 Praise be to God, our Father, who has graciously chosen us and placed us on this wonderful Garden (The Church) that has been long prepared, long before we stepped into this earth. Yes, God himself being the skillful Gardener, knowing precisely what is needed for His chosen souls to be sown on this Garden, knowing each of us who would be planted on this Garden, built our wonderful Church which is perfectly suitable and sufficient for each one of us. While we, as plants, try to take root on this Garden, to bud and to flower, may imagine we are doing a lot; but much work has been done by God through our fore-fathers decades and even centuries ago. Yes, Scripture says "He dug it up and cleared it of stones and planted it with the choicest vines; He built a watch tower in it and cut out a winepress as well." – Is 5:2. All we had to do is to be planted on this good Garden, sufficient and well-watered, by God himself; enjoying the providences of God and yield the fruits in its season. So has been our fore-fathers blessed by God, time and again, have blossomed, bore fruits and withered with age.
Praise be to God who has now enabled us to look back on the glorious days of our past Youth Fellowship, the days when our young fore-fathers took root on this Garden, stood firm in Faith and grew and yielded a crop; some thirty, some sixty and some a hundred.
While we, with our humanly limitations, we could only remember or mention the highlights which we believe were the proud moments of our history, we can all be sure in God's journal details of each seed and leaf and flower has been elaborately noted as Christ Jesus himself promised that even a cup of cold water will be accounted for.
Yes, years back when pedaling a bicycle was still a fashion, our forefathers in the Youth Fellowship were deeply engaged in playing their part. They looked not only into their own future but into future of needy and the future of fellow youth from other churches. On Sunday evenings, wearing their bell bottoms, they pedaled to places where people were socially downtrodden. They rode the streets of Sathuvachari, Senbakkam and Mullipalayam, where they promoted social welfare, teaching about cleanliness and disease prevention, and handed out tracts proclaiming the gospel of Jesus.
Contd..
The Youth Fellowship, to encourage and showcase the young talent in the church, published a Monthly Newsletter by the name "Vaalibar Seithi Madal". To support our Church Expansion, they wrote, produced, directed and acted in a play "Vazhikaatum Vazhi", raising up more than Rs. 40,000. They also conducted a Musical concert at the Anna Kalai Arangam.
Our Church Youth Fellowship has been supportive of homegrown missionary efforts, especially supporting Friends Missionary Prayer Band (FMPB) since the mid 70s.
To encourage and build up the youth of Vellore, yearly Youth Retreats were conducted in the late 70s with invitations sent to all churches in Vellore. Some of the well-known preachers featured were Paul Dhinakaran, Kingsley Arunodhayakumar and Ashok Vedanayagam. Inter Church Quiz competition with Rolling Trophy in memory of (Lawyer/Advocate) J. V. Abel was also conducted.
In mid 2010s, our Youth Fellowship visited CMC's Rehabilitation Center on weekends to encourage the immobile patients and share a word of hope & love in Christ Jesus.
Some special moments of our recent past are the Youth retreat in Kasam (2015), Youth Festival Fundraiser 2015-17 for church renovation and Young Couple's Retreat.
Our Youth Fellowship have also done some quiet work in house visiting to encourage fellow youth on several occasions.
The exceptional efforts of our church youth in supporting VBS, Sunday School, Choir, Carol Rounds, Harvest festival, Church decoration, special songs on youth Sundays, Christmas programs and many other church oriented programs is well-known.
As we look on our past, let us learn from it and continue to grow into our future. Is it not every young person's wish and desire to grow into a wise, strong and beautiful person? But it is even more desirable to grow stronger and look beautiful in the eyes of our Lord Jesus Christ, and to bear fruit for Him.
As Psalm 119:9 affirms "How can a young man keep his way pure? By living according to Your word", let us grow closer and closer to God so that we would be "like arrows in the hands of a warrior" - Psalm 127:4. The scripture exhorts us, that when God gifts us the Spirit, to "do whatever your hand finds to do, for God is with you" - 1 Sam 10:6. And to "do it with all your might" – Ecclesiastes 9:10.
May all our young members be blessed as "Salt and Light of the earth" – Mt 5:13-16.